How Slavery Affected
African American Families
Heather Andrea Williams
The University of North Carolina at Chapel Hill
National Humanities Center Fellow
©National Humanities Center
In some ways enslaved African American families very much resembled other families who lived in other times and places and under vastly different circumstances. Some husbands and wives loved each other; some did not get along. Children sometimes abided by their parent's rules; other times they followed their own minds. Most parents loved their children and wanted to protect them. In some critical ways, though, the slavery that marked everything about their lives made these families very different. Belonging to another human being brought unique constrictions, disruptions, frustrations, and pain.
Slavery not only inhibited family formation but made stable households, The Black Family Dynamic Is Destroying Black People, secure family life difficult if not impossible. Enslaved people could not legally marry in any American colony or state. Colonial and state laws considered them property and commodities, not legal persons who could enter into contracts, and marriage was, and is, very much a legal contract. This means that until 1865 when slavery ended in this country, the vast majority of African Americans could not legally marry. In northern states such as New York, Pennsylvania, or Massachusetts, where slavery had ended by 1830, free African Americans could marry, but in the slave states of the South, many enslaved people entered into relationships that they treated like a marriage; they considered themselves husbands and wives even though they knew that their unions were not protected by state laws.
A father might have one owner, his "wife" and children another. Some enslaved people lived in nuclear families with a mother, father, and children. In these cases, each family member belonged to the same owner. Others lived in near-nuclear families in which the father had a different owner than the mother and children. Both slaves and slaveowners referred to these relationships between men and women as "abroad marriages." A father might live several miles away on a distant plantation and walk, usually on Wednesday nights and Saturday evenings to see his family as his obligation to provide labor for an owner took precedence over his personal needs.
This use of unpaid labor to produce wealth lay at the heart of slavery in America. Enslaved people usually worked from early in the morning until late at night. Women often returned to work shortly after giving birth, sometimes running from the fields during the day to feed their infants. On large plantations or farms, it was common for children to come under the care of one enslaved woman who was designated to feed and watch over them during the day while their parents worked. By the time most enslaved children reached the age of seven or eight they were also assigned tasks including taking care of the owner's young children, fanning flies from the owner's table, running errands, taking lunch to owners' children at school, and eventually, working in the tobacco, cotton, corn, or rice fields along with adults.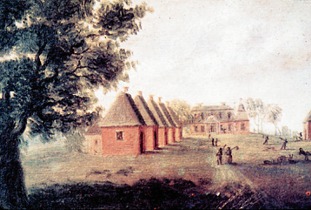 Slave quarters.

Mulberry Plantation, South Carolina.the effect of slavery on his own family. He never knew his father, he said, although he "heard it whIn some ways enslaved African American families very much resembled other families who lived in other times and places and under vastly different circumstances. ispered" that it was his owner. Further, he lived with his grandmother, while his mother lived and worked miles away, walking to see him late at night. In his narrative, aimed at an abolitionist audience, Douglass suggested that slaveowners purposefully separated children from their parents in order to blunt the development of affection between them.
Similarly, white northern novelist and abolitionist, Harriet Beecher Stowe used the sale and separation of families as a sharp critique of slavery in her famous novel, Uncle Tom's Cabin. Abolitionists such as Douglass and Stowe argued that slavery was immoral on many grounds, and the destruction of families was one of them.
Following the Civil War, when slavery finally ended in America after nearly two hundred and fifty years, former slaves took measures to formalize their family relations, to find family members, and to put their families back together. During slavery, many people formed new families after separation, but many of them also held on to memories of the loved ones they had lost through the sale. Starting in 1866, hundreds of people placed advertisements in newspapers searching for family members.
They also sent letters to the Freedmen's Bureau to enlist the government's assistance in finding relatives. Parents returned to the places from which they had been sold to take their children from former owners who wanted to hold on to them to put them to work. And, thousands of African American men and women formalized marriages now that it was possible to do so. Some married the person with whom they had lived during slavery, while others legalized new relationships.





On large plantations, slave cabins and the yards of the slave quarters served as the center of interactions among enslaved family members. Here were spaces primarily occupied by African Americans, somewhat removed from the labor of slavery or the scrutiny of owners, overseers, and patrollers. Many former slaves described their mothers cooking meals in the fireplace and sewing or quilting late into the night. Fathers fished and hunted, sometimes with their sons, to provide food to supplement the rations handed out by owners.
Enslaved people held parties and prayer meetings in these cabins or far out in the woods beyond the hearing of whites. In the space of the slave quarters, parents passed on lessons of loyalty; messages about how to treat people; and stories of family genealogy. It was in the quarters that children watched adults create potions for healing or select plants to produce dye for clothing. It was here too, that adults whispered and cried about their impending sale by owners. Family separation through sale was a constant threat. 
Enslaved people lived with the perpetual possibility of separation through the sale of one or more family members. Slaveowners' wealth lay largely in the people they owned, therefore, they frequently sold and or purchased people as finances warranted. A multitude of scenarios brought about sales. An enslaved person could be sold as part of an estate when his owner died, or because the owner needed to liquidate assets to pay off debts, or because the owner thought the enslaved person was a troublemaker.
A father might be sold away by his owner while the mother and children remained behind, or the mother and children might be sold. Enslaved families were also divided for inheritance when an owner died, or because the owners' adult children moved away to create new lives, taking some of the enslaved people with them. These decisions were, of course, beyond the control of the people whose lives they affected most. Sometimes an enslaved man or woman pleaded with an owner to purchase his or her spouse to avoid separation. The intervention was not always successful. Historian Michael Tadman has estimated that approximately one-third of enslaved children in the upper South states of Maryland and Virginia experienced family separation in one of three possible scenarios: sale away from parents; sale with mother away from father; or sale of mother or father away from the child.
The fear of separation haunted adults who knew how likely it was to happen. Young children, innocently unaware of the possibilities, learned quickly of the pain that such separations could cost. Many owners encouraged marriage to protect their investment in their slaves. Paradoxically, despite the likelihood of breaking up families, family formation actually helped owners to keep slavery in place. Owners debated among themselves the benefits of enslaved people forming families. Many of them reasoned that having families made it much less likely that a man or woman would run away, thus depriving the owner of valuable property.
Many owners encouraged marriage, devised the practice of "jumping the broom" as a ritual that enslaved people could engage in, and sometimes gave small gifts for the wedding. Some owners honored the choices enslaved people made about whom their partners would be; other owners assigned partners, forcing people into relationships they would not have chosen for themselves.
Abolitionists attacked slavery by pointing to the harm it inflicted upon families. Just as owners used the formation of family ties to their own advantage, abolitionists used the specter of separation to argue against the institution of slavery. Frederick Douglass, who was enslaved in Maryland before he escaped to Massachusetts and became an abolitionist stridently working to end slavery, began the narrative of his life by examining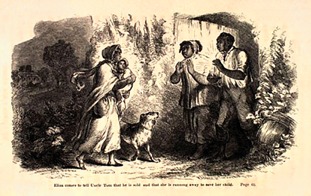 "Eliza comes to tell Uncle Tom that he is sold
and that she is running away to save her baby."
From Uncle Tom's Cabin.